Mick Hannah goes over his new GT Fury DH race bike. The new Fury is full carbon vs. aluminum of the old version.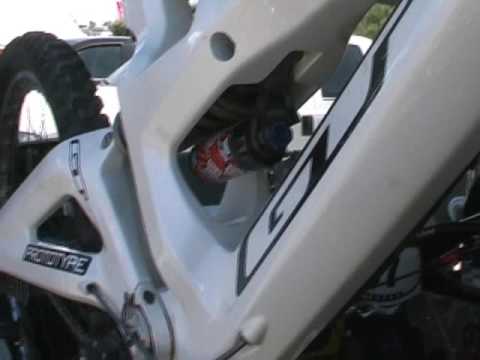 The carbon fiber is stiffer and stronger than the alumimum version. Check the photos for the damage that the bike sustained to the left side chain stay from a crash in the rock garden from Mick's second place at the South Africa World Cup race the previous weekend. People are always concerned with how well carbon fiber will hold up to crashes and rock impacts and other such trail conditions. Well, here is real world proof from one of the top DH racers (if not THE top DH racer) on the planet, that the carbon fiber held up just fine.
Besides his second place in the South Africa World Cup, Mick scored the Sea Otter DH win on Sunday and finished 5th in the Dual Slalom. Congrats Mick!
GT Fury Frame (from the GT Bicycles website):
"Full Monocoque Carbon Fiber with forged and CNC fitments, with all new I link assembly and pivot design for 8.65 inches of rear wheel travel with Maxle rear axle QR system"
(note: Mick is a real soft spoken kinda guy and I didn't have a remote mic for this video shoot. Apologies for the background music which makes it kind of hard to hear Mick.)
website: www.gtbicycles.com