Ellsworth had some of the most interesting bikes at the Sea Otter Classic, including a brand new as-yet unnamed model. You can have a
chance to name this bike in the Ellsworth Name It, Win It, Ride It Contest! (Submit up to 3 names before May 1st and win of the first production frames.)
In this video, Brian from Ellsworth shows us the highlights of the
new FR prototype bike, the new Momenutum SST, the Evolution and the full carbon fiber Enlightenment 29er!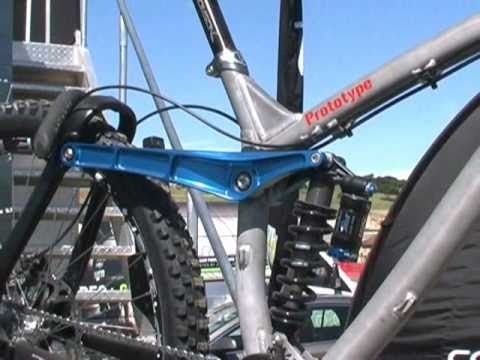 New Ellsworth Freeride Prototype – name TBD by YOU!
-180mm travel front and rear
-dual or single ring in front
-4″ of adjustability
-cane creek angleset
More info and photos:

Ellsworth has been a long time supporter of Mtbr and they graciously donated a brand new Momentum SST frame to our prize raffle at Sea Otter. Here the lovely Summer shows us the prize!
And here is a photo of the lucky winner with Mtbr's very own Lauren!
Momentum SST
-slopestyle/dirt jump/park
-100mm front and rear
-SST.2 Tubeset
-tapered headtube
-oversized bearings
-sex bolts
Evolution
-120mm travel
-trail oriented 29er
-SST tubeset
-CNC rocker arms
-ICT suspension
Enlightenment 29
-Carbon Hardtail 29er
-Good pedal clearance and good standover height with swoopy curves
interchangeable dropouts
-High Modulus Certified carbon
More info: www.ellsworthbikes.com